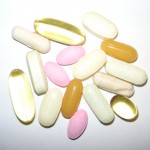 That's the compelling conclusion of a new study from a report commissioned by the Council for Responsible Nutrition. (I read about the study in an article from ww.nutraingredients-use.com, a source I love for its accurate, timely reporting on new studies about supplements and good-for-you foods.) The report and article include shocking statistics, like:
75% of our health care dollars go to the treatment of chronic disease.

Only 3% of those dollars go to prevention.
But if people spent just a few dollars a month on supplements, the national (and personal) savings could be huge. The economic report says…
Vitamin D and calcium supplements could spare U.S. women more than $1 billion dollars (from 2013 to 2020) in money spent on treating osteoporosis, the bone-eroding diseases that causes hip, spine and other fractures.
Lutein and zeaxanthin are two powerful antioxidants that support the "internal sunglasses" in the inner eye, thereby protecting you from age-related macular degeneration, the leading cause of vision problems and blindness. Taking those supplements could save Americans $930 million in costs for eye care.
Omega-3 fatty acids (EPA and DHA) could help protect us from heart disease, the #1 killer. Savings? $3.88 billion in the next seven years.
Chromium picolinate regulates blood sugar, and could reduce the risk of developing diabetes by 10%, avoiding 650,000 "medical events" (like hospitalization) and saving nearly $8 billion from 2013 to 2020.
The American public understands that supplements are important: two-thirds of adults take them regularly, with multi-vitamins, vitamin D, omega-3, calcium and vitamin C the biggest sellers.
And yet for all the good they can do, the typical doctor doesn't recommend them; may even condemn them as a waste of money; and probably knows next to nothing about the overwhelming evidence for their efficacy.
Well, your doctor is an important partner for your medical care; no doubt about that. He and the medical system can often help you when no one else can, particularly in the midst of a medical crisis, like a heart attack or cancer. 
But it's up to you to make the right choices about everyday self-care–and that's where supplements come in.
MY NEW BOOK: DEFEAT DIABETES–NATURALLY!
In my new book Defeat Diabetes–Naturally! (which tells you everything you need to know about two dozen super-supplements and super-foods for blood sugar control), I report on many of the supplements featured in the new economic report on dietary supplements.
I discuss how chromium can help regulate blood sugar levels. How low levels of vitamin D are linked to the development and worsening of diabetes. How the super-fiber PGX can balance post-meal spikes in blood sugar, which attack your arteries.  How phytosterols, like those found in soy foods, can protect your kidneys–the most vulnerable organ in people with diabetes. (A new study from the University of Washington-Seattle shows that chronic kidney disease is the #1 killer in that disease. How omega-3 can battle depression, a mental state that dramatically increases the risk of heart attacks and death from diabetes.
The book will be available for sale online in a few weeks, at which point I'll post a link to my publisher's website; it contains tons of unique information and suggestions about the use of supplements to prevent, control and reverse blood sugar problems. Until then, here's my advice:
Today's Health Coaching Tip: Educate yourself about supplements and create a personal program that maximizes prevention and addresses your current health problems.
I take a multi-vitamin-mineral powder in the morning (Energy Revitalization System)…a high-dose fish oil (from Nordic Naturals)…vitamin D (from BioTech Pharmacal)…and magnesium (from Now Foods) at bedtime…and a glass of water mixed with a super-food powder rich in greens, including blue-green algae like spirulina. I'm 60…don't take a single, daily pharmaceutical drug…weigh what I did in high school…have great energy…and even have most of my hair!
My question to you: What supplements do you take, and how do you think/feel they are affecting your health?
Yours for health and well-being,
Coach Bill