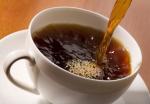 Among health enthusiastis, coffee usually gets a bad rap. It's said to be addictive…bad for your heart, nerves, bones and blood sugar…and altogther a dietary vice that is better off avoided. But as a health writer and health coach, I constantly encounter the opposite point-of-view: study after study shows coffee is good for you. (And person after person enjoys drinking it.) Well, a new scientific study provides yet another good reason to savor a couple of cups of coffee a day: preventing Alzheimer's disease!
The new four-year study, from researchers at the University of South Florida and the University of Miami, just appeared in the June 5 issue of the Journal of Alzheimer's Disease. It looked at 65-year-olds with mild cognitive impairment (MCI), the state of memory loss that precedes Alzheimer's and dementia. (About 10 percent of people with MCI develop Alzheimer's every year.) Well, the folks in the study with the highest blood level of caffeine from coffee had the lowest incidence of MCI turning into Alzheimer's. In fact, none of them developed Alzheimer's! "We found that 100 percent of the MCI patients with plasma caffeine levels above the critical level experienced no conversion to Alzheimer's disease during the two-to-four years follow-up period," said Dr. Gary Arendash, one of the study authors. "I firmly believe that that moderate coffee consumption can appreciably reduce your risk of Alzheimer's or delay its onset." His coffee kudos didn't stop there: "Moderate daily consumption of caffeinated coffee," he continued, "appears to be the best dietary option for long-term protection against Alzheimer's memory loss." That's Grande health news, no?
What is moderate daily consumption? The protective level of caffeine was achieved by drinking 3 cups of coffee a day.
And preventing Alzheimer's isn't the only way that coffee puts your health in the black. A recent study in the New England Journal of Medicine showed that coffee drinkers had a lower risk of dying from heart disease, lung disease, pneumonia, stroke, diabetes, infections–and even injuries and accidents!
I wrote about coffee and brain health in my book Bottom Line's Breakthroughs in Natural Healing 2012, reporting on a special issue of the Journal of Alzheimer's Disease that featured 22 scientific papers discussing how caffeine could prevent and perhaps treat brain disease like Alzheimer's and Parkinson's, and slow the everyday mental decline of aging. In those studies, higher caffeine intake was linked to a 60% reduced risk of Alzheimer's…a 50% reduced risk of Parkinson's…and in older people a 200% slower decline in mental functions such as memory and language skills.
Still worried about health risks from coffee? "A comprehensive review of the scientific literature found that for healthy adults, moderate daily caffeine intake poses no adverse effects on the cardiovascular system, bone status and calcium balance, or incidence of cancer," wrote researchers from the Florida Alzheimer's Disease Research Center in Tampa.
When I wrote this section on coffee–which I called "The Ultimate Brain Tonic"–I talked with Bennett Alan Weinberg, co-author with Bonnie K. Bealer of The Caffeine Advantage (The Free Press). Weinberg is such an afficiando of caffeine that he has dispensed with coffee altogether, preferring caffeine pills. (He recommends the low-cost Jet Alert, which he purchases at www.amazon.com.) Weinberg used to drink six cups of filtered drip coffee throughout the day. "Now, I start the day with 300 mg in pill form, sometimes taking another 100 mg or 200 mg before the day is over. I experience a more reliable and stronger boost, mentally and physically, with a drastically lowered dose of caffeine."
Of course, coffee and cafffeine isn't for everybody. If coffee makes you anxious or keeps you up at night, don't drink it. But if you're looking for a super-healthy beverage–linked to lower levels of Alzheimer's and just about every chronic disease that threatens the health of Americans–you can't beat a cup of coffee.
To your health,
Bill Gottlieb, CHC